"It's important to sell Jersey for what it is – a fantastic place to live and work"
Monday 19 February 2018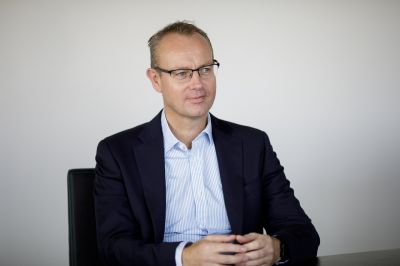 When we talk about Jersey's main industries, we rarely mention property. Yet the acquisition and subsequent rental of commercial and residential properties is a major business in Jersey, and one which underpins all the other sectors.
It also plays a key role in how the parish in which most of us spend the majority of our waking time – St. Helier – looks, and in what our experience is like while we are here.
So, with the major new IFC (International Finance Centre) developments taking shape in the Esplanade area, how is the commercial property sector doing in 2018, and what does the future hold?
Phil Dawes is the Managing Director of D2 Real Estate, a new commercial property consultancy practice. The team were formerly BNP Paribas Real Estate Jersey and concluded a management buy-out back in October 2017. That suggests they are very confident in the local market – Express met Mr Dawes to ask him why…
Phil Dawes: I think in a lot of ways (the MBO) was opportunistic. We were speaking to a number of private investors who owned commercial property in the Channel Isles and at the same time we were having discussions with BNP – and it was clear there was a willingness for both parties to do a deal. In terms of the commercial property market things were starting to develop. The market is certainly pretty buoyant this year so it made sense at the time to approach both parties, and we first agreed terms back in March, and basically concluded the deal in October. It is safe to say this year has been a very good one for us, and with the backing of investors we were able to grow our management portfolio, reduce costs and grow our income.
Express: Why do you think the local property market is strong, and where do you see it going?
Phil Dawes: To put it into context, this year we've just concluded our research figures and there's about 200,000 square feet of take up this year. Last year was about 160,000 and the year before that it was about 120,000, so it has been a very active market. Why do I think it's happened? Mainly because we have developers who are providing the Grade A space that the occupiers obviously require. Taking BNP Paribas for example, they were occupying three buildings in St Helier. They managed to relocate from 40,000 square feet into 25,000 square feet in Grade A space, which is highly efficient as well. You've got great natural light, and there's no columns, and I think that's what a lot of the occupiers have been crying out for.
Express: How much demand for that type of space is there?
Phil Dawes: I think if you look at our stats, we've got about 100,000 square feet of live enquiries which are filtering through next year, so there certainly is demand.
In terms of the secondary market what you find is that the buildings that are fit for purpose, and where landlords are prepared to invest in them, there has been good take up this year.
In fact, we were instructed on one office building in Bath Street which used to be occupied by Royal Bank of Canada, and the owner of the building was prepared to refurbish it speculatively – we've managed to get all 35,000 square feet pre-let and the refurbishment completes in a few weeks' time. So, there is demand out there in the secondary market as well as the prime market, because not everyone can pay £35-£40 a square foot and take long leases. Certainly, there's still pent up demand in the secondary areas for occupiers moving to the prime buildings who are prepared to take the longer leases. So, at the moment, there's good demand in the prime section, and there's good demand in the secondary areas for the right buildings – but they must be the right buildings. So those landlords who aren't prepared to invest in their stock are going to struggle to let them.
Express: How will the market change over the next 12 months?
Phil Dawes: I think the second building of the IFC will complete. I think there's demand there for the third building. I think there might then be a lull to take stock in terms of what demand is out there. I think the IFC will evolve over time. This isn't something that is just going to be built over night and any developer would appreciate that you can't flood the market with Grade A space.
Express: What about in the secondary office market?
Phil Dawes: If the landlord is prepared to invest in them, then the demand is out there. In fact, one of the largest lettings last year was on Liberte House in La Motte Street, which some might say is a secondary location. But what we are also seeing in the secondary market is quite a few of these buildings being converted to residential. Over 100,000 square feet has been converted so far, so I can see that developing over time.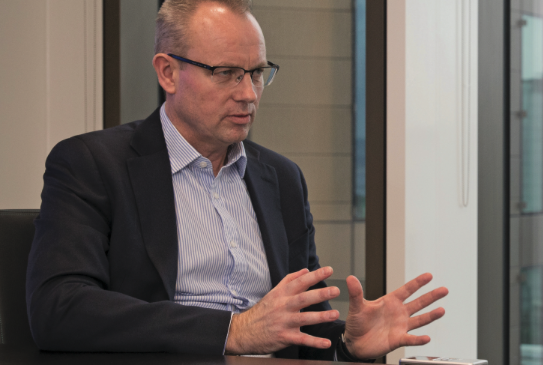 Pictured: "Consultation with key business groups on new policies is really important, says Phil Dawes. (Gary Grimshaw)
Express: What's your view of the business focus of town steadily moving towards the Esplanade?
Phil Dawes: Aside from having availability of land, and it being the obvious site for offices, particularly given infrastructure, car parking and amenities, I think it's important to have a central business district. But we could also improve some of the leisure facilities around St Helier. It would be great if we could do something at the Fort. I think that's got to be a priority. It's such a fantastic site and it could offer so much, so I think that's certainly a priority. I do think we need to think creatively, and be entrepreneurial, on some of the vacant secondary offices, in terms of how we deal with them going forward. Some of them are converted to residential and they do work for that use. Not all of them will, but not everyone wants to spend £35-£40 per square foot on Grade A office space. So, there will be demand there, and if you find new companies coming into the Island then they can fill up those offices, providing the buildings are fit for purpose and the landlords are prepared to invest in them.
Express: What do you need in terms of public policy?
Phil Dawes: In terms of support, I think having the flexibility to convert buildings will be very important going forward. The policy has already relaxed. We are seeing more offices being converted to residential and I think that needs to continue. In my view consultation with key business groups, ours being the Royal Institute of Chartered Surveyors, on new policies is really important and I think more can be done on this front.  The 20% tax on certain retailers and infrastructure levy debate being cases in point.
In terms of the Infrastructure Levy that's been very topical recently – I think there's a better way of doing it, but it's already in place actually, you should take each development on its own merits and assess what each development can afford to contribute to the local infrastructure. Whereas the previous proposal was to charge a blanket fee across the board, which I don't think is right.
That said, the States, when compared to UK government organisations, are proactive in my view and I think a lot of the criticism they receive is unwarranted.  For example, Locate Jersey and Jersey Finance have helped our clients by introducing new tenants to the Island, as well as enabling us to sell Jersey as an offshore financial centre to commercial real estate investors.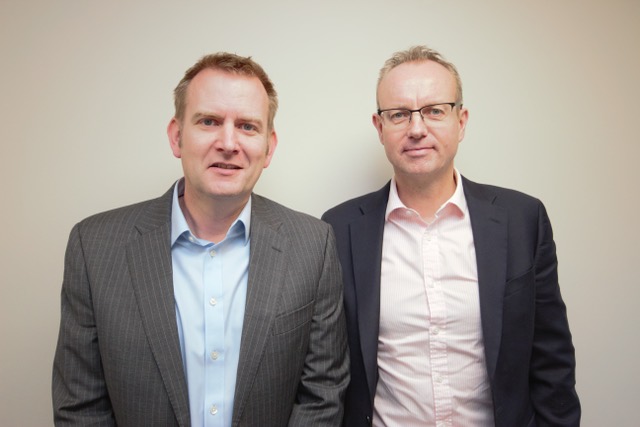 Pictured: Phil Dawes with Dave Birch who leads D2 Real Estate team in Guernsey.
Express: You've just opened an office in Guernsey – how does their property market compare with Jersey's?
Phil Dawes: They are two very different markets. Jersey has a lot more activity in the market because there is more stock available, so people have the ability to move around. In Guernsey, it's very different, there's virtually zero prime office space available, so therefore there's a bit of inertia in terms of a tenant's ability to relocate – so you find there is there is less activity, albeit the rents have maintained quite a high level, because in the event that space does come up, there's very little competition.
Express: What are the external threats to the market?
Phil Dawes: I think it's very important with Jersey to look at it on a global stage in terms of commercial property investment. What happens in Asia will filter through to London, which will ultimately filter through to the Channel Islands and certainly this year has been a record year for commercial property investments in the Channel Islands, with about £150m of stock transacted. We've also seen, after an absence of a number of years, the first Middle Eastern investor acquiring properties over here.
One of the challenges we face when we're selling properties is you're not only selling the bricks and mortar, you've actually got to sell Jersey, and it's very important therefore that the local media get on board and sell Jersey for what it is, which is a fantastic place to live and work. There's huge positives over here if you compare it to the UK. I think that's a very important message to get across.
Click here to view the original interview